March 2019
| Mon | Tue | Wed | Thu | Fri | Sat | Sun |
| --- | --- | --- | --- | --- | --- | --- |
| | | | | 1 | 2 | 3 |
| 4 | 5 | 6 | 7 | 8 | 9 | 10 |
| 11 | 12 | 13 | 14 | 15 | 16 | 17 |
| 18 | 19 | 20 | 21 | 22 | 23 | 24 |
| 25 | 26 | 27 | 28 | 29 | 30 | 31 |
Calendar


Microsoft Xbox 360 Kinect
With its emphasis on fun over graphics, the Nintendo Wii has been the surprise hit of the current generation of game consoles. It's taken a few years, but Sony and Microsoft have finally answered the motion-gaming call with the PlayStation Move and the Xbox Kinect (reviewed here). Whether your loyalties lie with motion gaming, it appears that for the time being the trend is here to stay.
Design
The entirety of the Kinect consists of a black camera bar that's much larger than most Webcams but is compact enough to reside near a TV without being too conspicuous. The actual Kinect sensor is roughly 11 inches wide by 3 inches deep, and can be centered above or below your TV (though a separate above-TV mount is recommended for flat screens). It sits on a small square base that allows the unit to automatically adjust its viewing angle using a motorized head. You'll see this pivoting feature in action during the device's initial setup and when launching games. The base is rubberized enough to provide sufficient traction even on the slightly curved surface of our home TV's stand, although Microsoft recommends flat placement in the instructions.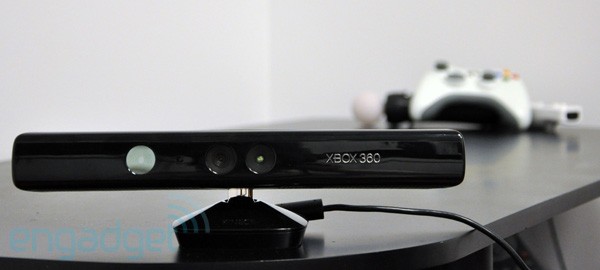 On the front of the Kinect sensor are windows that hide depth sensors, an RGB camera, and a multiarray microphone. Tilt it at certain angles and you can even make out a slightly flickering infrared light that helps the advanced Kinect camera scan the room. A green LED light flashes upon Kinect's boot-up, and remains solid when connected.
Interface and implementation
As we mentioned earlier, Microsoft's custom Kinect software completely revamps the look and feel of the Xbox 360 dashboard.
There is certainly a wow factor the first time Kinect is used to navigate through Xbox 360. Sliding our hand left or right to reveal a new page is among the most satisfying experiences when using Kinect to navigate.
Since Kinect is always on, the user can activate Kinect controls simply by waving "hello" at the screen. A small hand icon in the bottom-right corner begins to animate, and the dashboard will automatically switch to the Kinect-enabled menu system.
This menu, called Kinect Hub, features oversize icons representing each Kinect-compatible Xbox 360 feature. Selecting one involves holding your mouse-cursor-like hand icon static over a selection for a few seconds.
At launch, the Kinect Hub will feature Zune, Video Kinect, ESPN, Last.fm, and an avatar editor app, among others. (Note: Last.fm, like CNET, is a division of CBS Interactive.) However, there is currently no support for features like DVD playback and Netflix. Interacting with supported apps remains mostly consistent across the board. Any user can scrub along a video's timeline intuitively or pause and stop at any time. The process feels intuitive, and not unlike a motion-based version of the iPhone. If moving your hand to skip through a video or ESPN highlight doesn't sound appealing, users can also pause, stop, fast forward, and rewind content simply by speaking. Voice control is initiated by saying "Xbox," after which a pop-up menu crawls up, listing the available commands. We found some inconsistencies as to where voice control is available--but when it is, a microphone icon is shown in the bottom-right corner.
Setup
We're anticipating that most of Kinect's controversy will not reside in how well the system works, but rather the space needed to play properly. A recommended minimum of 6 feet of room should be in between the active players and the sensor, which is a hefty amount of real estate to request.
Of course, real life doesn't always allow for such room--especially for those who live in an apartment versus a spacious suburban home. Forget about space for that matter while buying a KINECT.
The good:
Controller-free motion gaming; full-body motion sensor; solid game library at launch; voice control; games will have you very active; almost impossible to fool.
The bad:
Timing-based learning curve; menu and video navigation is occasionally wonky and gets old fast; requires a lot of room to play; majority of games require standing; hard-core gamers may not feel satisfied; requires separate power supply when used with older Xbox 360 consoles.
The bottom line
: With its impressive body tracking and unique, controller-free experience, Kinect is great for casual gaming parties and workouts--assuming you have enough room to play it.
This piece of entertainment is the best one you can buy at the price range of Rs.7500.
Admin





Posts

: 12


Reputation

: 6


Join date

: 2012-01-18


Age

: 21


Location

: coimbatore





Similar topics
---
Permissions in this forum:
You
cannot
reply to topics in this forum